Alexander Knox
Talk

0
4,667pages on
this wiki
Alexander Knox
General Information
Real name:
Alexander Knox
Aliases:
Allie (by Vicki Vale), Count Dracula (by one of his colleagues)
Alignment:
Good
Affiliation:
Vicki Vale (Work Colleague and Friend)
Characteristics:
Gender - Male
Hair - Brown
Eyes - Brown
Portrayed by:
Robert Wuhl
Appearances:
Batman
"Is there a six-foot bat in Gotham City? If so, is he on the police payroll? If so, what's he pulling down - after taxes?"
―Alexander Knox
Alexander Knox was a reporter at the Gotham Globe.
Biography
Edit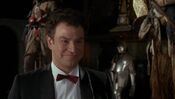 He believes in the Batman, and is very positive about him as well. When he and Vicki Vale are at Wayne Manor (where Bruce Wayne is hosting a charity ball to raise $250,000 for Gotham City's 200th anniversary), Bruce and Vicki hit it off. Alex appeared jealous, but was also a little intrigued by seeing how they got together. Bruce told Alex that he read his work and liked it "a lot".
With the Help of Vicki Vale and Batman, he managed to warn poeple of the product combinations of the Joker's poison. He also inadvertantly helped Vicki figure out Bruce Wayne's true identity as Batman, by showing her a newspaper clipping of his parent's death. His last act of bravery was during the 200th anniversary massacre, when he risked being poisoned in order to fight off Joker's thugs. Lastly he covered the unveiling of the Batsignal.
In either a deleted or unfilmed scene from the end of the film, Knox helped Bruce Wayne slip away from the GCPD by laying on the ground with the Batsuit cowl pulled on his head, and cape draped over his body. The scene appears in the novelisation of the film.
The lines "What a dick" (muttered after the newspaper artist shows Knox his rendering of Batman) and "He must've been King of the Wicker People" were ad-libbed by Robert Wuhl.
At the beginning of the film, Knox enters the press room and is handed a cartoon sketch of a "batman", which is a bat in pin stripe suit. It is signed by Bob Kane, who is the original creator of the Batman comic book.
Originally in the script he was supposed to be killed during the Joker's attack but the producers liked his character so much they decided to let him live.
Appearances
Edit