Barbara Gordon was the wife of Commissioner James Gordon, and the mother of James Gordon, Jr. and a daughter.
Biography
Edit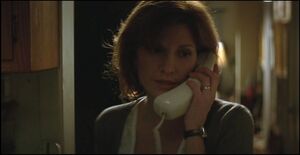 Behind the scenes
Edit
Barbara Gordon should not be confused with the character who becomes Batgirl. Traditionally, this would be her daughter, also named Barbara, but Christopher Nolan never took Gordon's daughter to that conclusion.
Full name in comic continuity is Barbara Eileen Gordon.
She, her husband, her kids, and The Joker were the only ones who know that Batman is innocent of Harvey Dent's crimes.
In The Dark Knight Rises, she and Gordon have separated, having taken the children with her to Cleveland. This is most likely reminiscient to the comics, though unlike in the comics where the divorce was a result of an affair on Gordon's part with another female officer the movie states that it was due to Harvey's attempt on their family that caused the divorce to occur.
Appearances
Edit
Ad blocker interference detected!
Wikia is a free-to-use site that makes money from advertising. We have a modified experience for viewers using ad blockers

Wikia is not accessible if you've made further modifications. Remove the custom ad blocker rule(s) and the page will load as expected.