Batgirl Begins, Part 1
Talk

0
4,664pages on
this wiki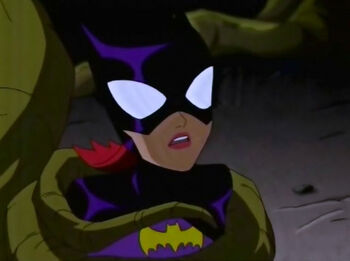 Batgirl Begins, Part 1 is the first episode of the third season of The Batman. It features the debut of Barbara Gordon as Batgirl, and pits new villains Temblor and Poison Ivy against The Batman.
Barbara Gordon, daughter of the new GCPD Commissioner, is The Batman's newest fan. After observing Gotham City's defender, she starts down a path to follow in his footsteps.
Animation by Dongwoo Animation Co., LTD.
First appearances of Temblor, Barbara Gordon/Batgirl, and Pamela Isley/Poison Ivy.
This version of Poison Ivy is somewhat different from others including her age and her history with Batgirl.
Batgirl seems to be breaking the fourth wall in this episode with naration that continues into the next episode.
Commissioner Gordon: (to Barbara) Pam's a bad seed.
---
Temblor: (To Pamela) You see, boss, the way it works is: When you don't pay, you pay!
Barbara: Hey, we're good for it. We'll raise the money with ... a bake sale! You like brownies?
---
Temblor: You dialed D for Destruction!
---
Temblor: Let's rumble!
---
(After possessed Batman starts attacking her)
Batgirl: Guess you were serious about not wanting a sidekick!
---
Batgirl: Yup, it's official ... I hate vegetables!
---
Temblor: Howdy, I'm Temblor. Let's shake!
---
Batman: (to Temblor) And here I thought earthquakes struck without warning.
---
Commissioner Gordon: Set up a perimeter. If Mr. Quake so much as breathes, I want someone there to tell me what he had for lunch.
---
Poison Ivy: You're getting to be a real thorn in my side, Batman.
Batman: And you're no rose, Poison Ivy.
---
Pamela: That stuff mutates plants! I don't wanna see what it does to humans!
---
Barbara: (to Temblor) I'm warning you, I'm-I'm an Olympic hopeful!
---
Barbara: Did one of your twigs snap, Pam? You hired a thug!
Pamela: You'd be surprised what you can find on the Internet.
---
Pamela's Mom: Pammy! I need you to take out the trash!
Temblor: Who was that?!
Pamela: That ... was my henchman.