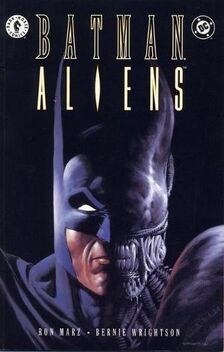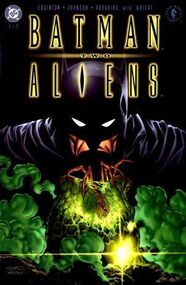 Batman/Aliens is a comic book crossover feautring an epic battle between Batman and the creatures from the Alien films. It is written by Ron Martz, with art by Bernie Wrightson and published by Dark Horse and DC Comics in 1997. In 2002-2003, a sequel was published called Batman/Aliens Two. It was written by Ian Edginton, with art by Staz Johnson. In this one Aliens have escaped from a labratory and only Batman can stop them!
In the first one Batman meets a hanful of mercenaries when he has to travel on a "mission of mercy" near the Guatemala and Mexico borderline. Into the jungle, the group finds a spaceship and later discover they have to prevent an Alien outbreak, besides savind themselves.
In the second one an explorer finds something buried in the Alaskin ice, and brought it home to Gotham City, where he seals himself in a labratory. It had been undiscovered until a current day construction crew broke it open to find the explorer torn apart. Dr. Forune, an army scientist, soon gets wind of this and hatches a plan to combine the aliens with DNA from Arkham Asylum inmates to create xenomorph/supervillian hybrid capable of keeping the superheroes in check.
Appearences
Edit
Individuals
Edit
Ad blocker interference detected!
Wikia is a free-to-use site that makes money from advertising. We have a modified experience for viewers using ad blockers

Wikia is not accessible if you've made further modifications. Remove the custom ad blocker rule(s) and the page will load as expected.