Ad blocker interference detected!
Wikia is a free-to-use site that makes money from advertising. We have a modified experience for viewers using ad blockers

Wikia is not accessible if you've made further modifications. Remove the custom ad blocker rule(s) and the page will load as expected.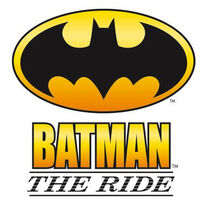 Batman: The Ride is a steel inverted roller coaster attraction found in various Six Flags Theme Parks themed after the DC Comics superhero Batman though the general decorative theme of the attraction is mostly based on the 1989 Batman film.
The concept of an inverted roller coaster was developed in the early 1990s. In collaboration with Swiss roller coaster manufacturer Bolliger & Mabillard, the ride officially opened to the public on May 9, 1992 at Six Flags Great America. It was considered, at the time, the single biggest investment made by the park on an attraction.
The world's first inverted coaster, it has since gone on to open at other parks in the chain and be awarded Coaster Landmark status by American Coaster Enthusiasts in 2005.
Experience
Edit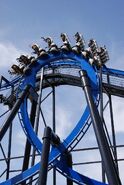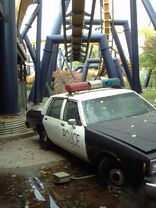 The attraction was designed to capture the very feel and spirit of Batman's world. Guests would first enter 
Gotham City
 Park. The scenery becomes more ominous as they enter a gritty environment with wrecked, bullet hole ridden cars and crumbling structures. A police squad car has it's radio broadcasting the Batman's activities as they make their way through an urban setting into the city's sewerlines. A winding stairwell reaches all the way to reveal the attraction's loading area - the
Batcave
. Naturally, the area is laden many of Batman's artifacts including computer displays of Gotham and the 
Batsuit
. A large, shiny replica of the Batman logo looms right above the loading platform.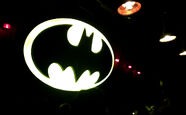 The ride cars are situated so that the riders sit completely upright. As the train prepares to embark, the platform lowers leaving riders feet dangling. Once they reach the top of the hill, the train courses through various loops, corkscrews and raven turns. This gives the riders the sensation of flying much like the way how Batman glides. This occurs until they finally returning to the loading area. Once guests are off the train they make their way to the ride photo-op stand and exit into to the park.
For most of the attractions, a life-size replica of the Batmobile from the film can be seen parked right outside the main entrance plaza.
Designers wanted guests to feel as if they've stepped out of the real world and into the 1989 Batman film. The queue was made to give riders Batman's perspective by making them go through a shortcut into the city's sewers, all the way to his hideout. The color scheme of the coaster rails vary on the attractions but they reflect the general palate associated with the character including: Blue, Black, Indigo, Gray and Yellow.
| Park | Park Section | Opening Date | Status |
| --- | --- | --- | --- |
| Six Flags Great America | Yankee Harbour | May 9,1992 | Operating |
| Six Flags Great Adventure | Movie Town | May 1, 1993 | Operating |
| Six Flags Magic Mountain | DC Universe | March 24, 1994 | Operating |
| Six Flags St. Louis | Studio Backlot | April 22, 1995 | Operating |
| Six Flags Over Georgia | Gotham City | May 3, 1997 | Operating |
| Six Flags Over Texas | Gotham City | May 26, 1999 | Operating |
| Six Flags New Orleans | DC Comics Superhero Adventures | April 12, 2003 | Closed |