"Revenge of the Red Hood, Part 2: Scarlet"
Edit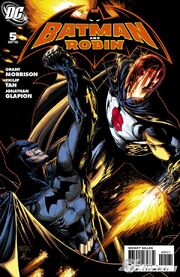 Are two Dynamic Duos too much for one city? Batman and Robin find themselves at cross-purposes with Red Hood and Scarlet. Who's right? Who's wrong? And who will end up being the chosen protectors of Gotham City?
Appearances
Edit
Revenge of the Red Hood, Part 2: ScarletEdit
Individuals
Edit
Locations
Edit
Ad blocker interference detected!
Wikia is a free-to-use site that makes money from advertising. We have a modified experience for viewers using ad blockers

Wikia is not accessible if you've made further modifications. Remove the custom ad blocker rule(s) and the page will load as expected.