"Blackest Knight, Part One: Pearly and The Pit"
Edit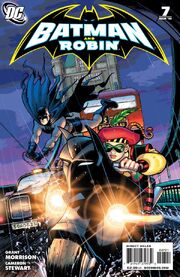 With Dick Grayson removing Bruce Wayne's body from a secure location. The action quickly cuts to central London, where we find Batman rescuing a child from a pod on the London Eye, just before it explodes. Batman then radios in to Squire, and the two begin a mad dash across London, in search of a dirty bomb planted by King Coal. Their chase takes them into the London Underground, where they find the bomb on a tube train, strapped to the body of Smooth Eddie English, The Pearly Price. Eddie English is a member of the infamous Pearly crime family, and after freeing him from King Coal's bomb, Batman decides to find out why Coal was trying to blow him up. In order to find these answers, he heads Basement 101, Her Majesty's high-security prison for 'Paranormals'. Here, he talks with The Pearly King of Crime, Eddie's father, and finds that Eddie had won a mine from Coal, but that Coal wanted the mine back, and was willing to go to war over it. Why is an abandoned mine worth risking so many lives? Well it may just be one of the last Lazarus Pits left on earth!
After ascertaining the pit's location, Batman and Squire head off to find the mine. When they arrive, they find Knight is already there, and is locked in battle with cultists of the religion of crime. The cultists were carrying a coffin with them, but before Batman can investigate what is inside, the coffin explodes, and Batwoman bursts out. It seems that the cultists were coming here to try and sacrifice Batwoman, because tonight is the winter solstice, and their prophesy says that the 'Knight of the Beast' will rise on this night, and in this place. When Batwoman asks what Dick and friends are doing here, she is shocked to find that they have come to resurrect Bruce in the Lazarus pit! She warns them against this course, but it is too late, as Knight came earlier in the day and placed him in there hours ago. Then a black gloved hand shoots out of the pool. Will it be Bruce Wayne, or something else entirely?!
Appearances
Edit
Blackest Knight, Part One: Pearly and The PitEdit
Individuals
Edit
Locations
Edit