"Blackest Knight, Part Three: Broken"
Edit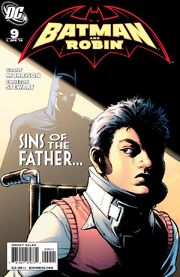 Part 3 of "Blackest Knight". Guest-starring Batwoman, Knight, and Squire! Only months into his new role as Batman, Dick Grayson faces possibly the biggest threat of his life. In hpes of attaining his hearts desire, has Dick instead unleashed a terror the likes of which the world has never seen? Meanwhile, back in Gotham City, Alfred and a recuperating Robin are at the mercy of someone both fearsome and familiar...
Appearances
Edit
Blackest Knight, Part Three: BrokenEdit
Individuals
Edit
Locations
Edit
Ad blocker interference detected!
Wikia is a free-to-use site that makes money from advertising. We have a modified experience for viewers using ad blockers

Wikia is not accessible if you've made further modifications. Remove the custom ad blocker rule(s) and the page will load as expected.