Clayface of Tragedy, Pt. 2
Talk

0
4,646pages on
this wiki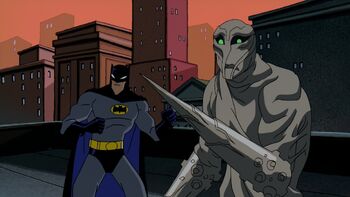 Clayface of Tragedy is the final episode of the first season of The Batman. It features Ethan Bennett's transformation into Clayface.
Batman faces off against a new villain named Clayface, who can transform his body as if it were clay and impersonate people of his choosing. Before The Batman can stop him, he will learn Clayface's shocking dark secret.
Yin has bad memory, when she remembered what Joker said about the putty, he was wearing a straitjacket instead of a suit.
Ethan: Yin, what's happened to us?
---
Clayface: Batman! Move!
Batman: Sorry, fella. Clay not spoken here.
---
Bruce: When Ethan talked about having coffee together, I never dreamed it would be without him.
---
Clayface: Sorry, Bats, but the water pressure always did stink here.
---
Clayface: Joker didn't just melt my skin. He melted my mind, too. I'm a freak inside and out. And Chief Rojas has zero tolerance for the likes of me.
---
Ellen: Bennett, stop!
Clayface: Boys locker room, Yin. You could get expelled for this.
---
Ethan: It's not cool to give away the secret identity, Yin.
---
Clayface: (as the Joker) Do you know what separates the freaks from the normals? Just one rotten day! Ever had a really rotten day, Batman? Thought so ...
---
Clayface: What? You don't approve, Bats? After all, to Rojas here, we're both on the wrong side of the law!
Batman: It doesn't matter what he thinks. It's the code you live by that matters. And you don't want to cross a line you can't uncross.
Clayface: Maybe you haven't noticed, Bats, but my line's been crossed ... for good!
---
Ellen: (about Clayface) He could be anywhere.
Bruce: He could be anyone.