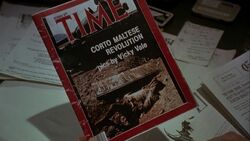 The Corto Maltese Revolution was a conflict whose aftermath was photographed by photojournalist Vicki Vale. Her work was used by Time Magazine. and one of the photos made the cover.
Although The Joker didn't like Vicki's fashion photos, his interest was piqued when he saw the carnage of her photos of the Corto Maltese Revolution. He then remarked that the photos that she took of the Corto Maltese Revolution were "good work", and that she gave it "all such a glow".
Appearances
Edit
Ad blocker interference detected!
Wikia is a free-to-use site that makes money from advertising. We have a modified experience for viewers using ad blockers

Wikia is not accessible if you've made further modifications. Remove the custom ad blocker rule(s) and the page will load as expected.