Dawnfire was a member of the African super-hero team, The Kingdom, murdered by the villain Massacre.
Dawnfire was formerly a member of The Kingdom but the team disappeared after five years. Massacre started hunting the former heroes and killing them, first Earth Strike, then Thunder Fall and third was Dawnfire. She was left dead for Batwing to find.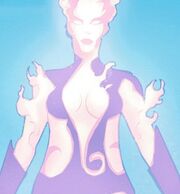 Ad blocker interference detected!
Wikia is a free-to-use site that makes money from advertising. We have a modified experience for viewers using ad blockers

Wikia is not accessible if you've made further modifications. Remove the custom ad blocker rule(s) and the page will load as expected.