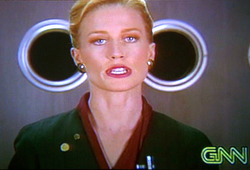 The 1995 movie Batman Forever shows a newscast on "GNN" (presumably standing for Gotham News Network). The logo is very similar to the "CNN" logo. GNN also appears on the Nolan series of Batman films. Finally, the 2008 movie The Dark Knight had its own version of CNN called "GCN". In the DVD, episodes of Gotham Tonight of the GCN network are found explaining events before the movie.
Ad blocker interference detected!
Wikia is a free-to-use site that makes money from advertising. We have a modified experience for viewers using ad blockers

Wikia is not accessible if you've made further modifications. Remove the custom ad blocker rule(s) and the page will load as expected.