Nick
General Information
Real name:
Unidentified (First name possibly Nicholas)
Aliases:
Nick
Alignment:
Bad
Affiliation:
Eddie (Accomplice)
Characteristics:
Gender - Male
Hair - Brown
Eyes - Brown
Portrayed by:
Christopher Fairbank
Appearances:
Batman
"What are you?!"
―Nick to Batman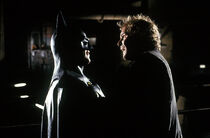 Nick was a mugger in Gotham City. He and his partner Eddie mugged a tourist family. Batman caught them, and Nick proceeded to shoot Batman twice in the stomach.
Nick tried to escape, but Batman dangles him with his Batarang and puts him over the edge of a building's roof, ordering Nick to tell others who he was. Nick was later seen in the crime scene and was arrested before telling them that he had seen a giant bat, overheard by reporter Alexander Knox who tried to get info from Lt. Max Eckhardt.
Screen Caps
Edit
Production Stills (from 1989batman.com by James Sawyer)Edit
Appearances
Edit
Ad blocker interference detected!
Wikia is a free-to-use site that makes money from advertising. We have a modified experience for viewers using ad blockers

Wikia is not accessible if you've made further modifications. Remove the custom ad blocker rule(s) and the page will load as expected.