Night and the City
Talk

0
4,647pages on
this wiki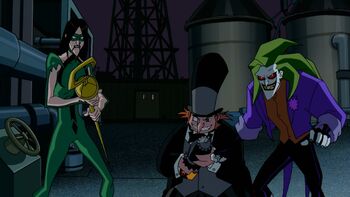 Night and the City is the thirteenth episode of the second season of The Batman. It features the Joker, the Penguin, and the Riddler teaming up against The Batman.
The Joker, the Penguin, and The Riddler battle over control of the city, until finally deciding to settle their differences by giving all of Gotham over to whoever is able to capture and discover the true identity of The Batman.
Animation by DR Movie Co., LTD.
Penguin: Who are you?!?
Riddler: Call me...........The Riddler!
Joker: Riddler?! You stealing my schtick?
Riddler: I do riddles. I don't tell jokes.
Penguin: Well,Gotham ain't big enough for the two of us, skinny....or three!
---
Yin: What's the plan?
Batman: Keep a lookout.
Yin: I thought I was your partner.
Batman: But you are not my sidekick.
---
Batman: What's on your mind....Commissioner?
Gordon: In our field, chasing bats is counter-productive. Not to mention a waste of police resources. Thanks to all your efforts, Batman, the time is finally right to take our alliance to the next step.
Batman: Commissioner?
Gordon: (holds up newspaper with picture of Bat-Signal) Good press sometimes goes beyond the law. The hearts and minds of all of Gotham are behind you.
Batman: I do my best work from the shadows.
Gordon: That won't need to change. All I ask is to help me make Gotham a safe place for my daughter to grow up in.