Teenage Girl
General Information
Real name:
Unidentified
Aliases:
None Known
Alignment:
Neutral
Affiliation:
Dick Grayson (Savior)
Characteristics:
Gender - Female
Hair - Brown
Portrayed by:
Rebecca Budig
Appearances:
Batman Forever
"Wait. Doesn't Batman ever kiss the girl?"
―Teenage girl
Character history
Edit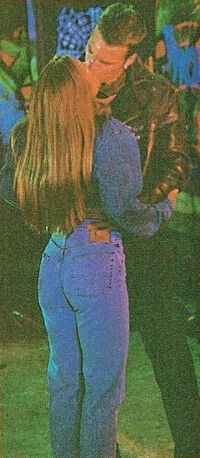 She was walking down the bad streets of
Gotham City
. All of a sudden, she was being pushed around by
Neon Gang
members.
Dick Grayson
arrived in the
Batmobile
. She tried to scream for his help, but their
Leader
covered her mouth. As they got distracted when they saw it wasn't
Batman
, she broke free of their grip and ran away screaming. The Neon Gang followed her and Dick followed them. Dick fought and defeated the Neon Gang, rescuing the girl. He told her to run, but she stopped to kiss him, and then fled.
Ad blocker interference detected!
Wikia is a free-to-use site that makes money from advertising. We have a modified experience for viewers using ad blockers

Wikia is not accessible if you've made further modifications. Remove the custom ad blocker rule(s) and the page will load as expected.