"The Batman/Superman Story Pt. 2" is the second part of the two-part first episode of the fifth season of The Batman.
The conclusion of The Batman/Superman Story finds Superman under the control of Lex Luthor, courtesy of Poison Ivy's hypnotic spores. Batman and Robin must free Superman from his trance and halt Luthor's diabolical plan.
Voice Cast and Characters
Edit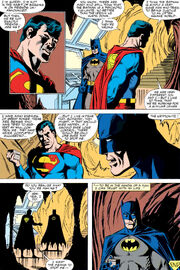 The Batman vs. Superman battle was clearly a homage to the Batman: Hush story arc issue - Batman #612.
Superman entrusting the Kryptonite into the care of Batman at the end of this episode is a reenactment to comic version of this scene found in Action Comics #654.
A few notes of John William's iconic Superman theme could be heard during certain points of the final fight.
Ad blocker interference detected!
Wikia is a free-to-use site that makes money from advertising. We have a modified experience for viewers using ad blockers

Wikia is not accessible if you've made further modifications. Remove the custom ad blocker rule(s) and the page will load as expected.