The Bookworm
Talk

0
4,665pages on
this wiki
The Bookworm was a villain created for the 1960s Batman television series. The character was identifiable by his thick glasses and dark brown leather suit, made to match rare old book bindings. He had an affinity for books and centered many of his schemes around them.
The Bookworm's History is unknown and his secret identity is also unknown.
Known Associates
Edit
The Bookworm had a few people who assisted him in his crimes:
Pressman (portrayed by Tony Aiello) - Bookworm's henchman.
Printer's Devil (portrayed by John Crawford) - Bookworm's henchman.
Typesetter (portrayed by Jan Peters) - Bookworm's henchman.
Lydia Limpet (portrayed by Francine York) - Bookworm's moll.
Trick Radio Eye Glasses- Used to communicate with his associates.
Fedora Booklight Hat- Used to read books with.
Congressional Record March, 1917 Book- Knockout gas book.
The History of the English Language Book- Another Knockout gas book.
For Whom the Bell Tolls Novel- A disguised bomb the Bookworm attempted to blow up the 1966 Batmobile with.
'''Bookmobile'''- The Bookworm's vehicle he uses to travel around Gotham City, it has a mounted Photo Projector on its roof.
Appearances
Edit
In Other Media
Edit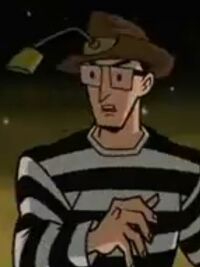 The Bookworm makes a cameo as a prisoner at Iron Heights prison in the Batman: The Brave and The Bold episode "Day of the Dark Knight!" along with fellow inmates King Tut, Egghead, Imposter Mad Hatter, The Archer, False Face, Black Widow, Siren, Marsha, Queen of Diamonds, Louie the Lilac, Ma Parker, and Shame. They are all defeated by Batman and Green Arrow when they tried to escape.