Ad blocker interference detected!
Wikia is a free-to-use site that makes money from advertising. We have a modified experience for viewers using ad blockers

Wikia is not accessible if you've made further modifications. Remove the custom ad blocker rule(s) and the page will load as expected.

The Sandman appears in two consecutive episodes of the 1960s Batman television series.
History
Sandman is an international criminal who uses hypnotic sand controlled sleepwalkers to do his bidding. Under the alias of sleep therapist Dr. Somnambular, he collaborated with Catwoman in a plot to rob the fortune of J. Pauline Spaghetti.
Equipment
Hypnotic Sand - Sandman used this in order to control sleepwalkers to do his bidding.
Known Associates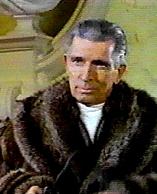 Nap (portrayed by Tony Ballen) - Sandman's henchman.
Snooze (portrayed by Richard Peel) - Sandman's henchman.
Kitty and Cattie (portrayed by Valerie Kairys and Pat Bender) - During her partnership with Sandman, Catwoman had a pair of female criminal companions. It appears as if these two women functioned more as servants than criminal helpers. This is suggested through the leashes Catwoman made them wear.
Catarina (portrayed by Jeanie Moore)
Appearances