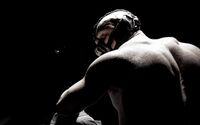 This weekend, the teaser trailer for The Dark Knight Rises debuted before Harry Potter and The Deathly Hallows: Part 2, and has now been released online. Check out a glimpse of Bruce Wayne's confrontation with Bane (played by Tom Hardy) below:
Ad blocker interference detected!
Wikia is a free-to-use site that makes money from advertising. We have a modified experience for viewers using ad blockers

Wikia is not accessible if you've made further modifications. Remove the custom ad blocker rule(s) and the page will load as expected.