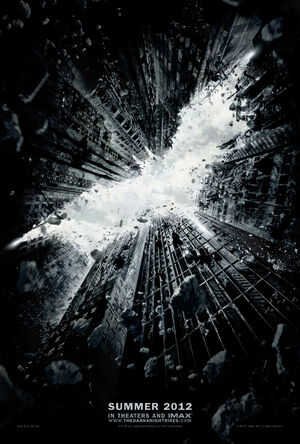 Warner Bros. has unveiled the teaser poster for its summer 2012 tentpole The Dark Knight Rises.
The image, posted Monday at thedarkknightrises.com, features a view of Gotham City, with the camera pointing upward at several skyscrapers as they appear to be collapsing but giving the discernible shape of a bat. No cast members in it, not even Christian Bale. Warners previously released images of Thomas Hardy as the villain Bane, but this is the first poster image.
Gary Oldman will reprise his role as Commissioner Gordon, while a slew of franchise newcomers also has joined the film, including Anne Hathaway, Joseph Gordon-Levitt and Marion Cotillard.
What do you think of the poster? Pretty cool in my opinion.