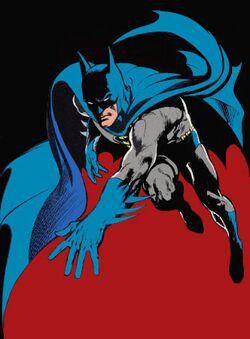 Great news if you haven't heard yet, Batman fans! Yesterday, Warner Bros. Entertainment issued a press release detailing what they'll have at San Diego Comic-Con this year, and, along with other film and TV panels, this year is all about Batman! You can read more about it on Comic-Con Wikia.
Attendees can see the world premiere of "Batman: Assault on Arkham" AND the world premiere public screening of "Gotham." As I'm sure many, if not all, of you know, there are Batman panels to celebrate 75 years of one of the world's most beloved Super Heroes! To celebrate, Warner Bros. will be hosting a rare display of some of the canon's most famous film costumes in history—those worn by Christian Bale, George Clooney, Val Kilmer and Michael Keaton—on display in the DC Entertainment booth.
There will be a Batman '66, reuniting pop icons Adam West, Burt Ward and Julie Newmar on the Hall H stage for "Batman: The Complete Television Series," and there will be a "Batman 75: Legends of the Dark Knight" panel discussion with veteran Batman creatives Frank Miller, Grant Morrison, and more. SDCC 2014 attendees can also go to the "A Batman for all Seasons" panel where panelists will examine Batman iterations and oddities throughout history, from early films like "Public Defender" and the Batman cartoons, to new versions of the character, the off-kilter takes and new media.
For video game enthusiasts, there will be a Cape/Cowl/Create art exhibit for "Batman: Arkham Knight," and there will be a panel for "LEGO Batman 3: Beyond Gotham." So many Batman things coming our way!
---
---
Ad blocker interference detected!
Wikia is a free-to-use site that makes money from advertising. We have a modified experience for viewers using ad blockers

Wikia is not accessible if you've made further modifications. Remove the custom ad blocker rule(s) and the page will load as expected.