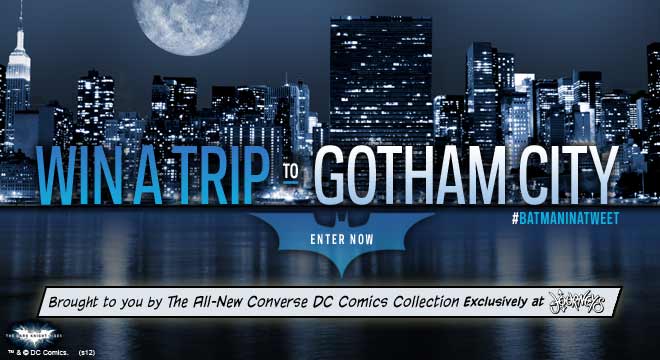 THIS CONTEST IS NOW CLOSED.
How to Enter:
We want you to sum up the legend of Batman in a single tweet, using the hashtag #BatmanInATweet.
Alternatively, you can post your summary as a comment below, using 140 characters or less.
NOTE: You must leave a logged in comment to win!
The Grand Prize!
One winner and one guest will win a 2-night trip to Gotham (New York City)!
Rules
Open for US residents only. Must be 18 or older OR have a parent or guardian's permission to win. Check out the official rules for details. Winners will be randomly selected from all eligible entries.
Contest ends August 1st.
Share The Contest!
Other Batman Things To Do
Ad blocker interference detected!
Wikia is a free-to-use site that makes money from advertising. We have a modified experience for viewers using ad blockers

Wikia is not accessible if you've made further modifications. Remove the custom ad blocker rule(s) and the page will load as expected.