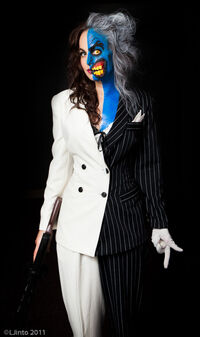 Aside from celebrity sightings and geeky panels, Comic-Con is all about cosplay. Anime characters, comic book characters, iconic characters; it's all fair game and people often go over the top to take the cake for best cosplay costume. This year, this "Lady Two-Face" has the honor of being (un)officially declared best Comic-Con costume!
Megan Marie is the face behind Batman's famous nemesis Two-Face, which she recreated very accurately. Have any other cosplay pictures from Comic-Con 2011 you'd like to share? Be sure to add it to Wikia's Con 2011 gallery! We'd love to see more outrageous costumes!
Gallery
Ad blocker interference detected!
Wikia is a free-to-use site that makes money from advertising. We have a modified experience for viewers using ad blockers

Wikia is not accessible if you've made further modifications. Remove the custom ad blocker rule(s) and the page will load as expected.