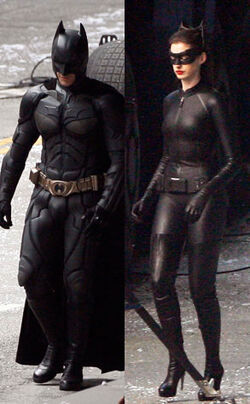 Many fans were adamantly against Catwoman's costume in the upcoming The Dark Knight Rises, so here's a more complete look at the costume.
This time, she has the trademark cat ears...but is that enough? Tight leather costume, check. Mask, check. Ears, check. Heels...? Check.
What do you think of the latest peek at Catwoman? Can Anne Hathaway live up to the iconic anti-heroine? Tell us in the comments!
Source
Ad blocker interference detected!
Wikia is a free-to-use site that makes money from advertising. We have a modified experience for viewers using ad blockers

Wikia is not accessible if you've made further modifications. Remove the custom ad blocker rule(s) and the page will load as expected.