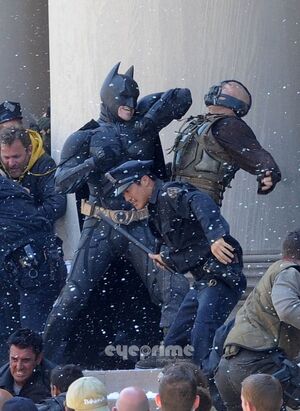 The Dark Knight Rises features a litany of iconic characters from the original Batman series we that all know and love. From Catwoman to Bane, the Man Who Broke the Bat, we can't wait to see the characters in action.
Until that day comes (July 20, 2012), however, we'll have to satisfy ourselves with some awesome shots of the filming in action! Check out these cool shots of Christian Bale fighting Tom Hardy with Bane's full costume. There are speculations that the mask on his face is for pumping Venom, which gives Bane enhanced strength.
Gallery
Ad blocker interference detected!
Wikia is a free-to-use site that makes money from advertising. We have a modified experience for viewers using ad blockers

Wikia is not accessible if you've made further modifications. Remove the custom ad blocker rule(s) and the page will load as expected.