Batman Beyond Game
General Information
Developer:
Rocksteady Studios
Publisher:
DC Entertainment

Warner Bros. Games

Eidos Interactive

Distributor:
Unreal Engine 3
Genre:
Action-adventure

Beat 'em up

Stealth

Mode(s):
Single-player
Platforms:
Xbox 360, PlayStation 3, Microsoft Windows, Mac OS X

I wanted to make the template anyway.
There's been diccusion of the Arkharm City Sequel " City of Fear ", " Gotham City ", and " Power of Fear " to give a few titles. Well... since they're making a prequel to Arkharm Asylum... I thought.... why stay with old Bats? Why can't they go with.... say.... Batman Beyond?
Thus, the Batman Beyond game.
It would be basiclly Season 1 of Batman Beyond adapted into a videogame. Derck Powers would be the main villian. He'd most likly be in 3 Boss Battles. 1 as Derck, another as Blight, and maybe a Titan Blight.
Enemies like Mister Freeze from before would come back, including possibly something like Bane returning * like how Ras does in " Out of the Past " in Batman Beyond with Talia " or Ghoul being Scarecrow's son and the two of them fighting againest Batman Beyond. Yeah.
This also might explain the origin story ( the part with Terry's dad dying, him meeting Bruce, and becoming the new Batman ).
Anyway, what do you think? Would it work?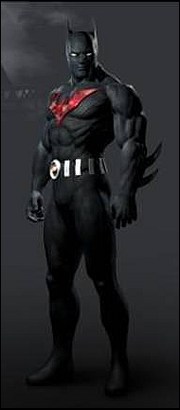 What would you have the game called?
Ad blocker interference detected!
Wikia is a free-to-use site that makes money from advertising. We have a modified experience for viewers using ad blockers

Wikia is not accessible if you've made further modifications. Remove the custom ad blocker rule(s) and the page will load as expected.