Comments

0
The Dark Knight Rises on Entertainment Weekly
A familiar cowl will be gracing the cover of this weeks Entertainment Weekly, as the magazine reveals exclusive photos and news from the upcoming The Dark Knight Rises.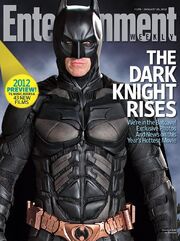 Although not much information is given in the article about the paper, found on the Entertainment Weekly website, they do give some details regarding the upcoming movie.
The following is a *SPOILER ALERT*
Although previously announced, the movie will take place eight years after the conclusion of The Dark Knight.
The Batcave will also see a return. The reason why it wasn't in The Dark Knight was due to Wayne Manor getting burned down in Batman Begins.
The movie explores the social and political ramifications of Batman's and Commisioner Gordon's decision to hide the truth about Harvey Dent (aka Two-Face).
*END OF SPOILERS*
We may still have a while to wait for the movie to be released, but who else besides me can not wait any more? Let us know in the comments!