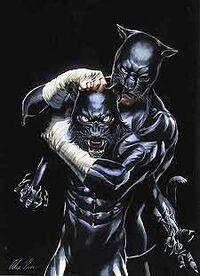 Comic Book Version
Edit
In Other Media
Edit
In the Justice League episode Legends, League members Green Lantern (John Stewart), Hawkgirl, The Flash, and Martian Manhunter team up with The Justice Guild of America. JGA member Cat Man (voiced by Stephen Root) is a cross between Ted Grant/Wildcat and Golden Age Batman.
Wildcat is set to appear in the upcoming video game DC Universe Online.
Ad blocker interference detected!
Wikia is a free-to-use site that makes money from advertising. We have a modified experience for viewers using ad blockers

Wikia is not accessible if you've made further modifications. Remove the custom ad blocker rule(s) and the page will load as expected.